Sweet 'n Sticky Baked Chicken Drumsticks
Hey all!
I thought I'd put this recipe up as I am selling all drumsticks half price from 7/29/23 to the end of August!
Notes: I did this on the grill and cut the time by about 10 minutes. Also, as soon as you get them in the oven or grill, start cooking down that marinade! It takes a bit to thicken. 
These were absolutely delicious and the drums were so juicy! Enjoy!
YIELD: 12 CHICKEN DRUMSTICKS
Sweet 'n Sticky Baked Chicken Drumsticks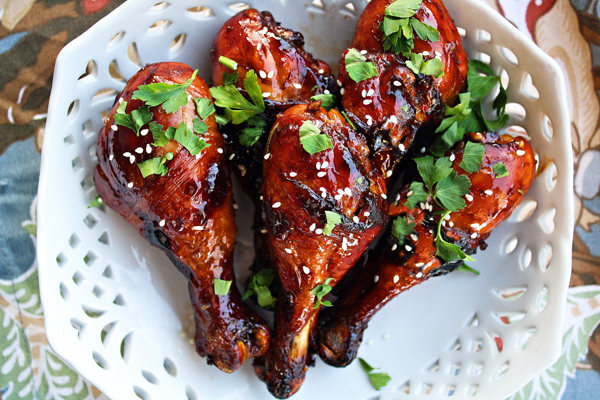 Ingredients
1/2 cup balsamic vinegar
1/2 cup honey
1/2 cup light brown sugar, packed
1/4 cup low-sodium soy sauce
3 garlic cloves, minced
12 chicken drumsticks
2 Tbsp. sesame seeds
1/4 cup chopped fresh flat-leaf parsley
Instructions
Combine the balsamic vinegar, honey, brown sugar, soy sauce and garlic cloves in a large resealable bag. Add the chicken to the bag and seal. Marinate in the refrigerator for 2 hours.
Preheat the oven to 450 degrees. Line a rimmed baking sheet with aluminum foil. Top with a cooling rack. Remove the chicken from the bag, reserving the marinade, and arrange the drumsticks on the cooling rack. Bake until the skin is caramelized and dark in spots, about 30 minutes.
Meanwhile, place the leftover marinade in a small saucepan, uncovered. Bring the marinade to a boil, then reduce the heat to a simmer and cook over low heat until thick, about 15 minutes. Use a pastry brush to brush the cooked marinade on the chicken.  Return to the oven for 10 more minutes.
Place the chicken on a serving platter and sprinkle with the sesame seeds and the chopped parsley.
Enjoy!